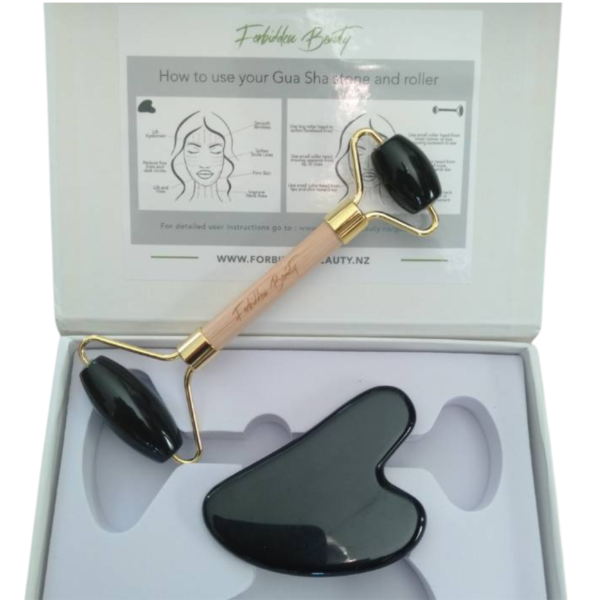 Forbidden Beauty Facial Massage Set – (14.8cm high x 5.8cm wide).
This lovely facial massage gift set includes a facial roller and gua sha uplift stone.
Traditionally used in Chinese facial massage , gua sha involves the evening practise of using smooth elegant upward motions of these tools to stimulate the skin and relieve tension.  This has the visible effect of reducing puffiness and inflammation by helping kickstart our natural cleansing and lymph-draining system.
Choose between our jade or obsedian stone massage set.
Beautifully packaged in an attractive and sturdy presentation box. Comes with detailed user instructions.
$34.95 (includes GST and shipping)
Prices shown include ALL taxes, shipping & handling costs. (Thus avoiding the shock of extra costs when checking out!).
Both the Gua Sha tool and facial roller require the use of upward strokes to relieve tension, create a lifted feel and help drain fluids from your face.
In addition to the detailed user instructions on the inside of each gua sha box, we have also provided this  Gua Sha – All you need to know!  article on our website :